VCS signature solution JOBS4BLUE is the leader in managed services for extra duty and getting officers paid up front.
Looking to outsource your police extra duty program? Look no further – Jobs4Blue handles it all so there's no hassle for you. Our 20+ years of police scheduling experience and trusted relationships with top vendors allow us to seamlessly administer extra duty programs so you can remain focused on the frontline.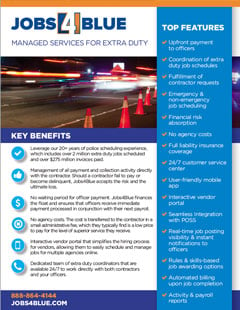 JOBS4BLUE handles the coordination of daily extra duty job schedules, the fulfillment of contractor requests, and the scheduling of emergency and non-emergency jobs. JOBS4BLUE also absorbs the financial risk and handles debt and delinquent account collections, ensuring that no matter what, there is never a waiting period for officer payment.
Download our free e-brochure to learn more about JOBS4BLUE, including top features, key benefits and how it works.