VCS signature solution COSS provides a customized workforce management solution to meet the real-world challenges facing criminal justice facilities.
COSS can manage any and all compliance requirements easily and effectively including relief factor management, medical and inmate transfer staffing, and central intake personnel management to name a few.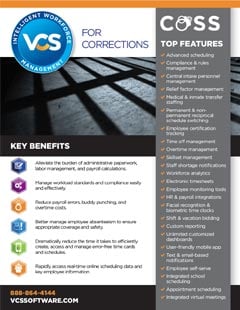 With COSS, you can track time and attendance, control overtime costs, optimize staff scheduling, manage employee absenteeism, minimize compliance risk, make better data-driven decisions, and overall improve employee productivity and engagement.
Download our free e-brochure to learn more about COSS, including: top features, key benefits and product highlights.